Landfills are a common method of solid waste disposal in India, and they are often located near cities and towns. However, due to poor management practices and inadequate infrastructure, many of these landfills pose significant environmental and health risks t5o nearby communities.
In today's blog, we look at some of the landfills in India and reflect upon lessons from them on what needs to be addressed to solve the landfill problem.
The highest number of landfills is 609 which are in Uttar Pradesh, followed by 326 landfills in Madhya Pradesh, 237 landfills in Maharashtra and 191 in Karnataka.
Mavallipura Dumping Ground, Bangalore, Karnataka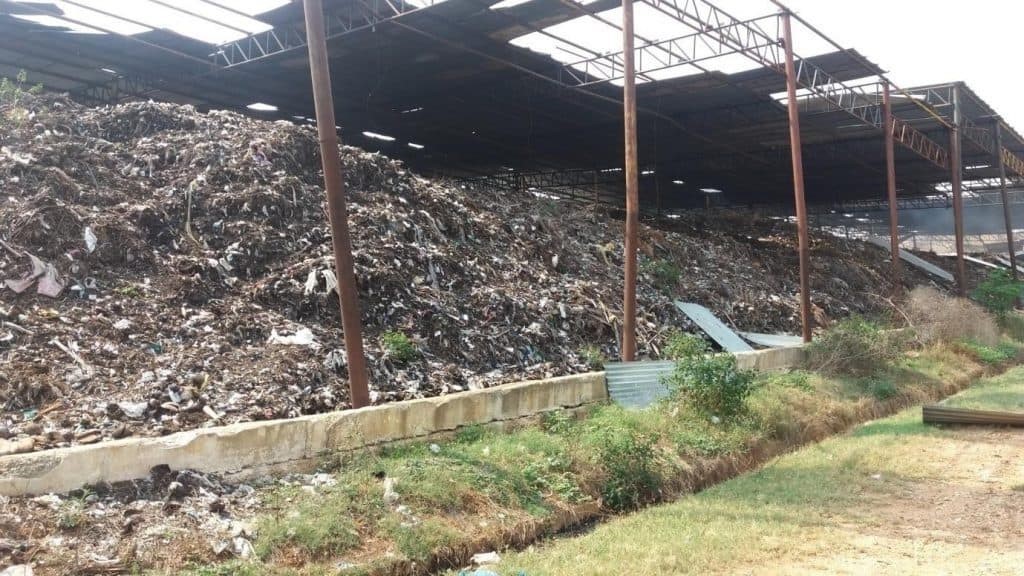 The landfill at Mavallipura is an example of the widespread dilution of environmental standards. It illustrates the attempt by the bureaucratic functionaries to usurp community-managed commons located in the peri-urban areas. There are widespread socio-ecological as well as health impacts in converting productive common village lands into landfill sites, causing catastrophic conditions, and endangering lives and livelihoods.
After two decades of wilful dumping of waste at this village, the Karnataka High Court closed the Mavallipura landfill site in 2012. However, to date, there are no directions from the court, nor any mitigation measures in place to tackle the severe health and pollution problems faced by the villagers. The BBMP plans to build a crematorium at this place.
Deonar Dumping Ground, Mumbai, Maharashtra
It is India's oldest and largest dumping ground, set up in 1927. The Deonar dumping ground is a waste dumping ground or landfill in the city of Mumbai. Located in Shivaji Nagar, an eastern suburb of the city, the 96-year-old gigantic Deonar dumping ground in the suburbs of Mumbai has been infamous for recurrent fires.
Vellalore Garbage Yard, Coimbatore, Tamil Nadu
Vellalore dump yard is a big garbage site with no easy access of vehicles and pathways and gangways, also the landfill site had one of the largest fire at Coimbatore outskirts.With the daytime temperature soaring and a minor fire already reported this year, the Corporation has the challenging task of preventing further fire in the Vellalore dump leaving residents breathing contaminated air. According to an engineer in the civic body, the overall area of the Vellalore dump yard, including the composting and biomining sections, is 654 acres and the total waste dumped there was spread over nearly 45 acres.
Pirana Landfill, Ahmedabad, Gujarat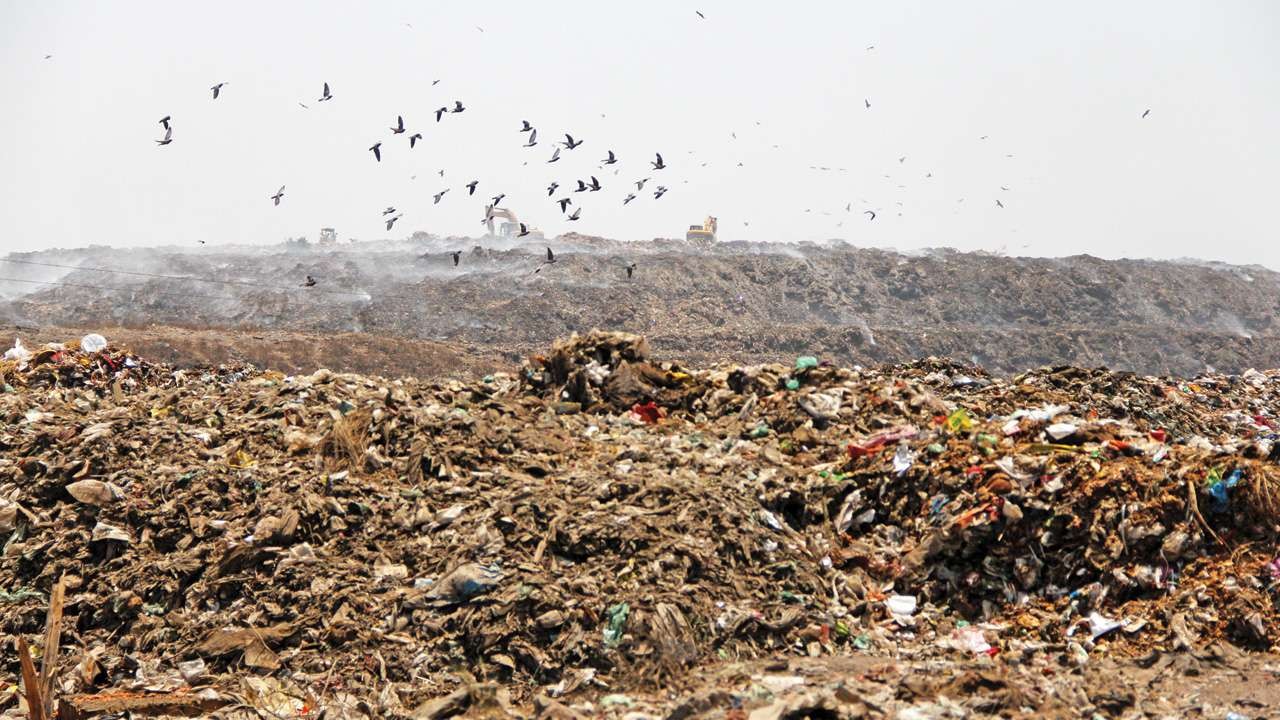 Pirana Landfill in Ahmedabad is the producer of smoke, toxic fumes and foul smell, One of the most unsafe and unstable landfill of India. Spreading over an area of 84 hectares, the Pirana landfill has been the city's major dumping yard since 1982. Every day, the Ahmedabad Municipal Corporation (AMC) collects approximately 4,700 metric tonnes of solid waste to dispose of at the landfill. The landfill is characterised by three 75-feet-high massive mounds of garbage, each weighing 69 lakh metric tonnes.
Ghazipur Landfill, Delhi
Ghazipur Landfill site is the biggest contributor of air pollution in Delhi, having grown tall up to 65 metres over the past few years. They call it the Mount Everest of garbage. India's massive Ghazipur landfill, outside New Delhi, takes up as much area as 40 soccer fields and is as high as the towers on London's tower bridge. And it's still rising — by 32 feet every year.
Uruli Devachi and Phursungi, Pune, Maharashtra
The Pune Municipal Corporation (PMC) has been struggling to find a place to dispose of 400 metric tonnes of garbage, which is the amount disposed of at the two landfills in these areas. According to civic officials, the open dumping has stopped in the landfill near Uruli Devachi and Phursungi, and claim the 400 metric tonnes of fresh waste is being processed along with bio-mining of 600 metric tonnes of waste, daily.
In conclusion, Landfills are designed to contain waste, but they can also release harmful gases and leachate into the environment if waste is not properly managed. By segregating waste, we can reduce the amount of waste that is sent to landfills and minimize the potential environmental harm caused by these facilities.
Overall, segregation is a crucial step in the waste management process and plays an important role in minimizing the amount of waste that needs to be landfilled, reducing environmental impacts, and promoting more sustainable waste management practices.
ISSUES AND EFFORTS
Waste Segregation
One of the major issues with landfills in India is the lack of proper waste segregation and disposal systems. Much of the waste that ends up in these landfills is unsegregated, which means that hazardous and non-biodegradable waste is mixed with organic waste. This can lead to toxic leachate and methane gas emissions that are harmful to the environment and nearby communities.
Infrastructure
Another issue is the lack of adequate landfill infrastructure and management practices. Many of the landfills in India are poorly constructed, with inadequate liners and cover systems. This can result in contaminated groundwater, soil, and air pollution, which can lead to respiratory illnesses, cancer, and other health problems.
Monitoring
Moreover, landfills in India often lack proper monitoring and maintenance systems, which means that they are prone to fires and other hazards. These fires can release toxic chemicals into the air, further exacerbating the health risks to nearby communities.
Efforts to Manage Landfills
Despite these challenges, there are efforts being made to improve landfill management in India. For instance, some municipalities are introducing waste segregation programs and implementing waste-to-energy technologies to reduce the amount of waste sent to landfills. There are also efforts to improve the construction and maintenance of landfills, including the installation of proper liners and covers to prevent leachate and gas emissions.
With concerted efforts to improve waste segregation, landfill infrastructure, and management practices, there is hope for reducing the negative impact of landfills on India's communities and the environment.
In conclusion, Landfills are designed to contain waste, but they can also release harmful gases and leachate into the environment if waste is not properly managed. By segregating waste, we can reduce the amount of waste that is sent to landfills and minimize the potential environmental harm caused by these facilities.
Stay tuned for our follow-up blog on what can waste segregation do in solving the landfill problem.
Authored by Aditi Lokhande, Shekar Prabhakar
References
https://en.wikipedia.org/wiki/Deonar_dumping_ground#cite_note-2
India: number of landfills by state | Statista
India: municipal solid waste generated by state | Statista
How Bengaluru's garbage killed Mavallipura's environment - Citizen Matters, Bengaluru
Landfills Aren't The Solution To Bangalore's 'waste' Problem | Environment Support Group (esgindia.org)
https://cpcb.nic.in/uploads/MSW/MSW_AnnualReport_2020-21.pdf