Jyoti Tulsiyan sent a kilogram of clean milk covers to HDI's Plastic Aggregation Centre. Read her story and why clean waste matters for waste pickers.
At HDI, we aggregate post-consumer milk covers or LDPE plastic waste at our Plastic Aggregation Centre in Bangalore. Aggregation is a stage in the value chain, before Recycling. Milk Covers are sorted by our workers, who separate the milk covers from ghee or oil covers and other trash that shouldn't be going into the machines that do the recycling process. The covers are sourced from our waste picker entrepreneurs, city's dry waste collection centres and informal micro waste entrepreneurs.
These covers carry a stink, and they get stinkier by the time they travel from your dustbin to our aggregation centre. The workers who sort them have to sit through this smell to work. Ideally speaking, before putting a used milk cover into the dustbin, one should rinse it and dry it. If the sorting workers received clean post-consumer milk covers it would be a different work day for them, a cleaner one, one where they don't feel like throwing up.
In a rare case, a consumer sent us 1 kilogram of milk covers that she had been proactively collecting at her home for the purpose. Bearing the expense of the courier herself, she reached out to us straight via a package containing clean milk covers, that reached our Aggregation centre in Kambipura.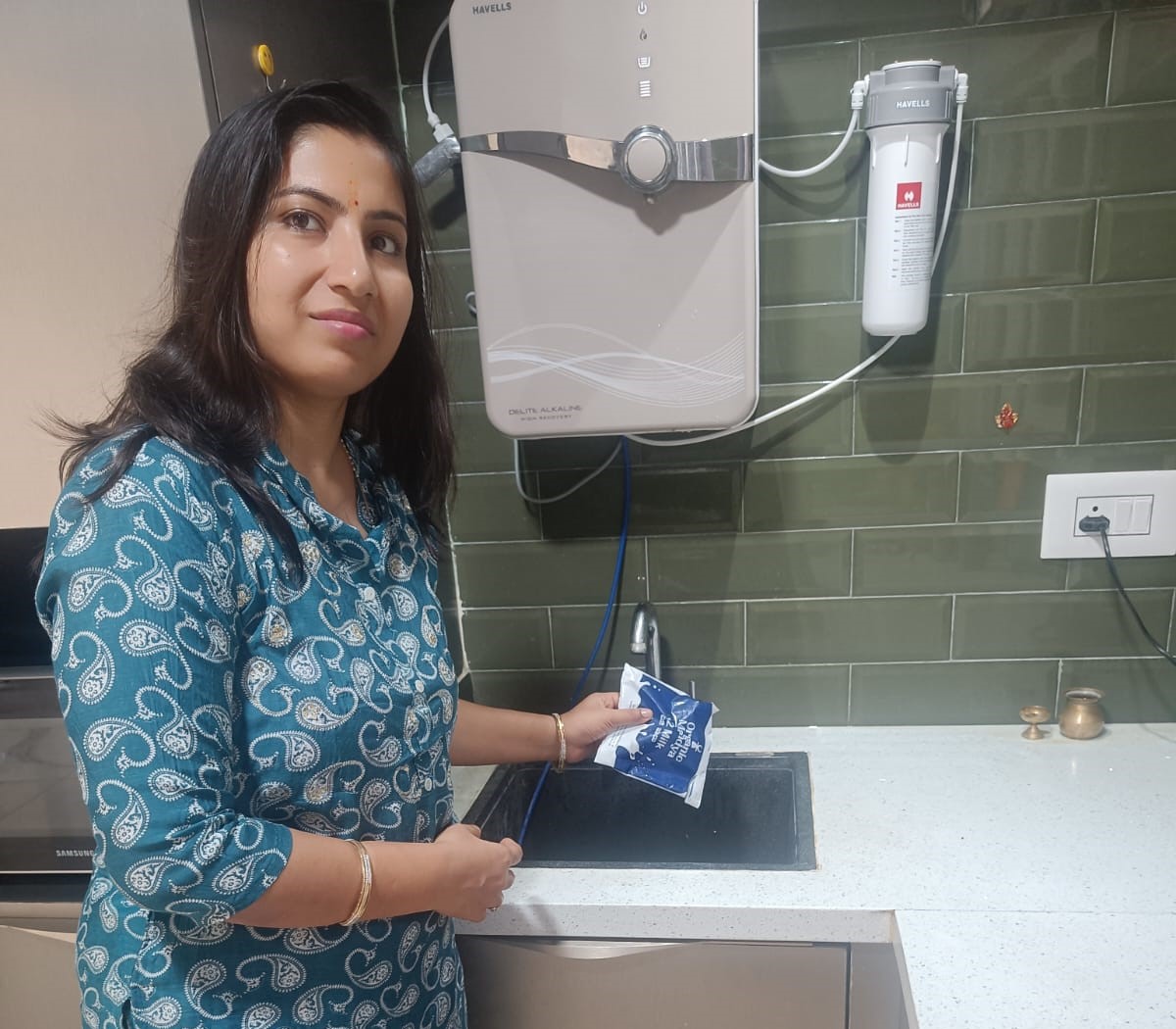 Her name is Jyoti Tulsiyan. Vividha from HDI, interviewed her over email to explore the thought that goes behind the simple act of cleaning milk covers and why it should be the norm. It extends to other types of plastic that you may come across whether you like it or not. But first let's hear from Jyoti.
First things first, most people casually throw away milk covers after use. What/who inspired you to clean them before disposal? What problem do you seek to solve by doing so?
I had read the news and some articles regarding milk packet recycling in the past. I was aware that these milk packets are recyclable. But it was only a matter of the idea striking me to start this initiative.
I got that start when one of my society residents posted a message in the society social media group regarding collection of empty milk packets at her doorstep so that she could courier all the collected packets in one go. When I collected sufficient empty packets to drop at her doorstep, she wasn't unreachable. So I decided to courier it by myself and I started searching for recycling plants in Bangalore. That's when I got to know about HDI's Plastic Aggregation centre.
My few milk packets might not be making any difference where tons of packets are thrown into the garbage dump daily. But personally, I feel satisfied that I am not a part of the plastic waste harming the environment.
2. There are arguments about water wastage in rinsing and drying milk covers. While wastepickers who segregate waste strongly recommend the practice, many people don't support it citing the wastage of water as a reason. What are your thoughts on this? What tips would you recommend in support of cleaning the milk covers in a water-efficient manner?
I don't see any wastage of water in cleaning these covers. In fact, after pouring the milk in a vessel, I clean the packets with drinking water in order to take out extra milk fat that remains inside the packets. So this way packets get cleaned by 90%, we need only a little more water to get it totally cleaned. So I feel it is a complete hypocrisy that people cite water wastage as a reason for not cleaning the covers. When we cook in the kitchen and wash our hands so often between multiple activities, then people don't argue about waste wastage. And what about washing milk packets with water when we bring them home?
3. For how long did you collect the packets before sending them to us? Is it only you or does everyone in your home practice cleaning the covers? How did you ensure the covers were not causing a mess in your home and what was your process of storing them like? What was the count or weight of the covers you sent in?
We are a nuclear family and my husband also contributes in this initiative of cleaning and rinsing the empty packets. Now since it has become our habit, we don't feel like we are putting an extra effort. I collected the packets for 6-8 months till they weighed around 1kg. After drying, I stored them in a big packet and kept some naphthalene balls in order to keep the smell or tiny flies away.
4. Did you know about the impact of milk covers on the working conditions of waste workers?
I have never met with any of these workers. In fact I came to know about their working conditions from you so thanks a lot for sharing this with me.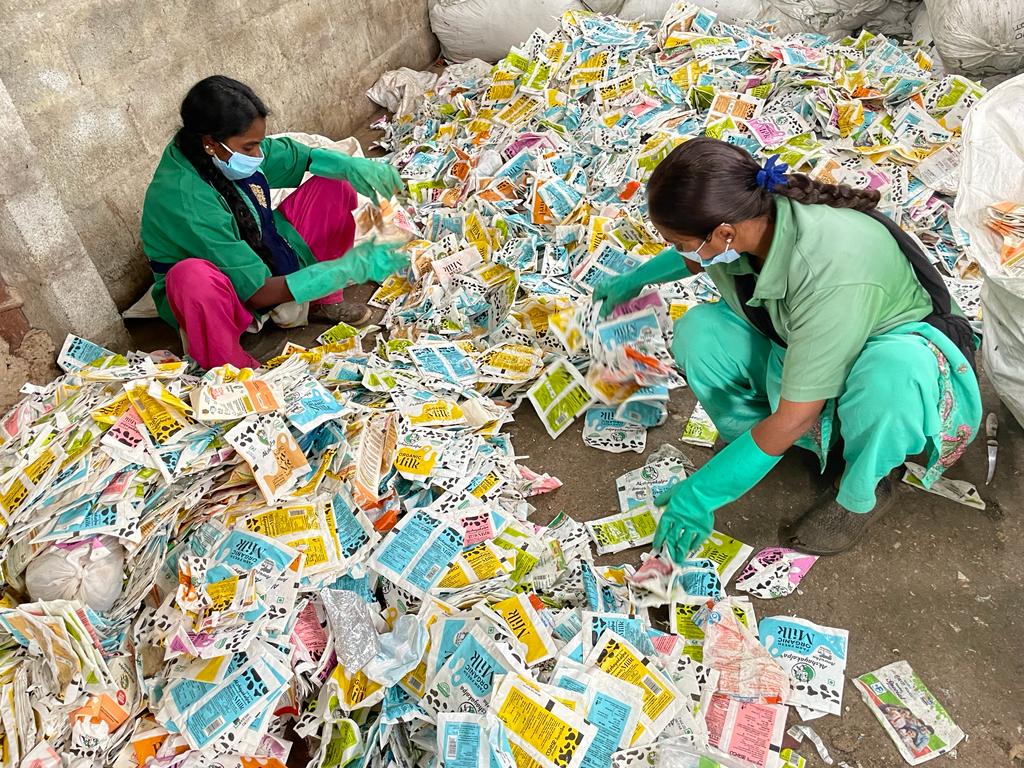 5. Often people who practise environmentally-conscious behaviour are met with criticism for being the isolated ones to do it and told that they don't make a difference. What would be your response to someone like that who says "One person cleaning the covers doesn't make a difference!"?
"One person's taking the initiative doesn't make a difference". I have often heard this said by people who simply criticise the government or civic body for neglecting the environment and then making these excuses at the time of taking initiative. My response in this regard is that "Little drops of water make the ocean". It is seen that any initiative or change starts from a single person. Today if we search about plastic waste management or recycling plants there are hundreds of such facilities that are the outcome of these initiatives. I believe that it is every person's duty to be responsible towards our environment and mother nature.
6. I have no doubts that you practise many other sustainable routines. Would you please share 3-5 such practices with us that you believe can make a difference if more people follow them?
I don't remember any special practice being followed at home but common practices like checking on wastage of waste, electricity and food; keeping our neighbourhood clean, have always been followed by my family.
.
7. What is your relationship with nature? Is there anything that drives you to protect or conserve it?
I think one's relationship with nature can't be defined by words. We are all part of mother nature. The food we eat, water we drink, air we breathe, these are the lifelines we get from our mother nature. If we lose the relationship with nature, we would lose humanity. In return what nature seeks from us, is just a little care and love. So I personally feel it is my duty and responsibility to protect and conserve nature within my capacity.
Jyoti's simple act of rinsing and drying the plastic waste post-consumption, enabled a cleaner and safer work environment for a sorting worker. If all of us collectively make it our second nature to clean the waste before simply throwing it away, give a thought that there are people who will be working on it, the lives of many would become easier.
What can you Rinse and Dry?
Milk and other dairy covers such as buttermilk or ghee.
Flexible packaging of food liquids such as daal, sambar, chutneys, etc.
Plastic boxes of food packaging such the ones for rice, or breads,
How to Rinse and Dry?
Rinse the packaging with minimal water. In case of milk covers, use drinking water to rinse, so that you can pour the water in the milk.
Clip the wet covers on your kitchen windows' grills and let them dry.
Put only dry covers in the "Dry Waste" bin.
Ensure that you are engaging with a responsible waste management company that assures your waste is transported to a recycling destination.
It doesn't get over here. Ask your community managers, such as apartment secretaries or managing committee members as to where all the waste goes to. Ensure that the companies being engaged for the waste management service are committed to sending the waste into the recycling chain and not throwing it away in the neighbourhoods or incinerating the same without sorting or proper recovery of materials.
It is important to understand that what is waste for you, is a livelihood for a waste worker, and others in the recycling chain that deal with these post-consumer materials. Therefore the cleaner it reaches them, the better their workplace is.
As a waste management and circular economy solutions company, we handle post-consumer waste; i.e., after the products have been used and the waste has been thrown away. Our job is to ensure that this plastic doesn't become plastic waste. We are experts at recovering, sorting and sending it to a responsible destination, preventing it from incineration, flowing into water bodies, and ending up in a landfill.
We encourage brands and product designers to choose their materials keeping the environment in mind. We strongly support brands that bring in zero-waste ethic right from the planning stages, factor in sustainable material-sourcing and recyclability logistics and capacities.
So while the brands do it and consumers vote with their wallets to make sustainable choices, Hasiru Dala Innovations is recovering resources from waste and keeping them circulating in the economy; just as in nature, where nothing goes to waste but is a resource for something new.