The Social Side of Plastics Circularity: A Conversation with the Women Workers at the Plastic Aggregation Centre of Hasiru Dala Innovations.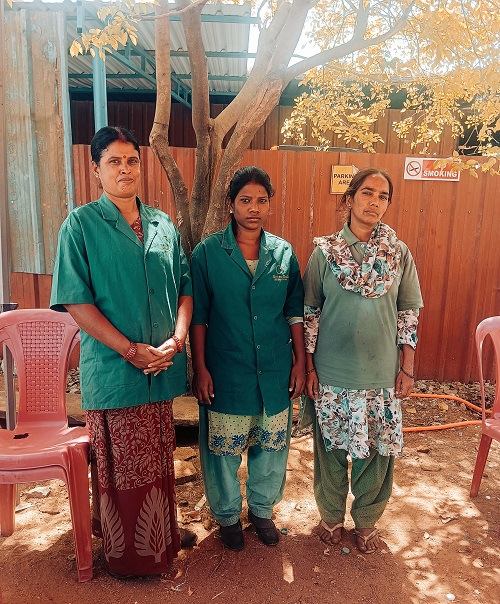 (From Left to right - Lakshmi, Revathi and Reshma)
Lakshmi amma works as a sorter at our Plastic Aggregation Centre. She sorts PET bottles on a conveyor belt and works full-time with Hasiru Dala Innovations. She has been working with us for the last two years.
In her 40s now, she was born and brought up in Bangalore and studied until middle school. She made attempts to pass Grade 10th, after turning 18, but she couldn't get through as she was already wading through a myriad of responsibilities.
Lakshmi amma carved her own path in life, both inside and outside of her household. When her husband abruptly called her marriage off, she was just 20 with three children to take care of. She worked in several odd jobs as a daily wage worker in factories to make ends meet.
She would complete her daily chores, have her kids fed and leave them to the care of her parents while she went for work.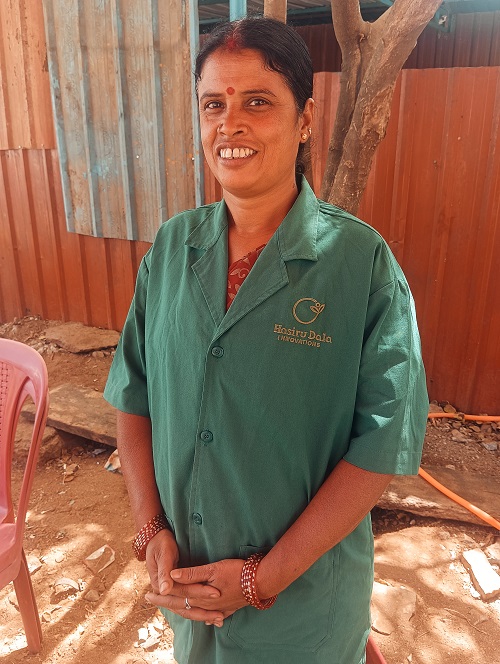 Lakshmi
"I survived because of my financial independence. Today things are better because I worked a lot. Now I want to build my own house, that's my goal", says Lakshmi.
Having worked in several factories, Lakshmi brought up her kids as a single mother, while handling court proceedings for a divorce.
"I had to leave the divorce business out of my life. Neither did I have the money nor the time to pursue it. With three kids, I knew only my income could bring us any semblance of happiness".
Her children are doing well today. One of her daughters works as an accountant at a college in Bengaluru, while the other is in the final semester of her graduation. Her son did not make it to college as he began working in odd jobs early on to support the family income. But since he is into a job with a stable income, Lakshmi is happy with her son's career as well.
I asked her, when would she like to retire. And would she like to take a break from work, now that her kids are doing well for themselves and have taken over the financial responsibilities.
To which she said,
"Children today know how to earn, but they don't know how to save. So I can't depend on my children. I will work until I physically can."
When asked about her goals and future, besides building her own house, Lakshmi wants her daughters married to good partners. Having seen a marital partnership full of conflict, the concern she has for her daughters, tops all that she looks forward to in the future.
She says "My daughters will earn their own money. No one will have the power to leave them in misery. I want them to find a good person, even if with less money. The only thing I am wary of is abusive partners who can make life hell."
I asked Lakshmi amma what she wants for herself. She kept saying several things, each of which involved the future of her kids.
When I asked her what would make her happy in the present, that doesn't involve her children's futures, no responsibility and is something that she would do simply for leisure, she said - "I would love to read books".
Reshma, who is a colleague of Lakshmi's and works as a sorter for milk covers at our Plastic Aggregation Centre listens, nods, closes eyes in understanding as she hears Lakshmi speak.
Reshma too is bringing up three teenagers. Married early without formal education, both their lives intersect closely when it comes to their children. Getting up at 5 am, cleaning, cooking lunch for a family of five, washing clothes and many more chores are done by the time it is 9 am. By 9.30 am they report for work which goes on until 6. They go back home for the remaining third part of the day - cooking dinner, managing more chores, checking in on everyone's lives and listening to all family issues and banter.
Reshma remarks candidly how she loves it when her kids ask for anecdotes from when she was young! She says that her chores feel lighter when kids share them and bring in banter while they do. For Reshma too, her worries, goals and prayers lay in the future of her children. She says that she saw education turnaround the future of many of her friends and relatives.
Reshma
"I want a good education for my children. I want them to go to college. I know they will be all-set if they study", she says.
Working with the 40-something ladies is the 20-year old Revati, who sat with Laksmi & Reshma, gently smiling, finding it funny to be interviewed.
She was about to leave for her hometown in Assam in the next few days, to get married to her boyfriend, whom she was taking along with her. She was happy about having convinced her family back home about this marriage and excited about a lot of things to come. Revati grew up without proper access to schools. She fondly claims that she had always been drawn to playing outdoors.
"During the primary learning phase, when there used to be a school near my home , I would run away to play. I never liked sitting in the classroom. When I grew up, the middle school was too far away to go to and my family decided against it. I was happy that I would get more time to play!"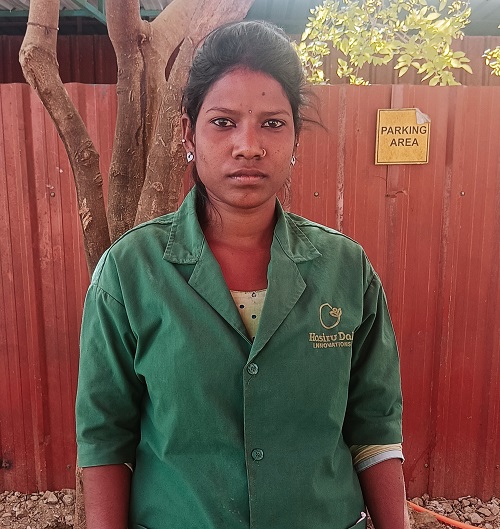 Revati
Revati isn't aware or conscious of the role of education like Lakshmi or Reshma. Working to earn and having fun are at the top of her mind and that's how she loves to lead her life. She found a job where she works at a factory, she decided to marry a person who works in the same space and she just believes in a beautiful life putting together the pieces that she knows.
The work that the three women do, carries a wider social impact at the intersection of their own lives, the environment and the economy.
The PET bottles, sorted by Lakshmi, are a part of HDI's partnerships with H&M and Unilever. Bottles are sorted on a conveyor belt before they're compressed together in a baling machine. The bales are further sent for recycling.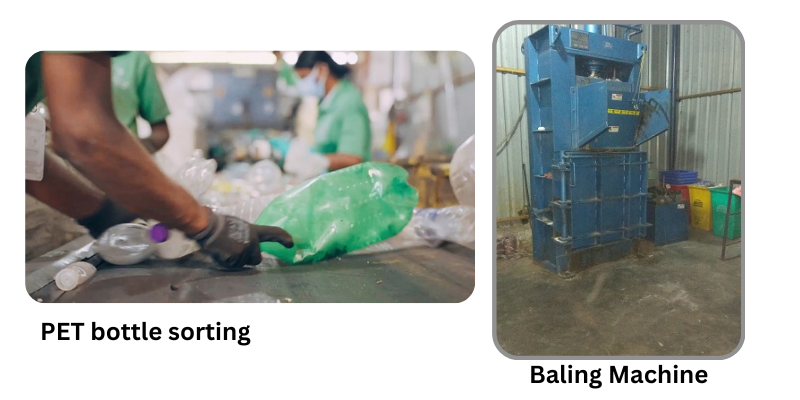 With H&M, the bottles become buttons; and with Sunsilk, we have just dispatched the first consignment of our 'bottle-to-bottle'' project. The PET bottles collected by wastepickers, and sorted by workers at the Plastic Aggregation Centre, will go on to become a Sunsilk Shampoo bottle. A truly CIRCULAR solution built keeping INCLUSIVITY at the heart of our ethos. There are brands willing to pay a social premium as they try to manage their plastic footprint, and hence there is a market that creates better opportunities for people in the plastic value chain to work in dignified conditions and have scope for further growth.
In the bustling heart of Bangalore, amidst the clatter of conveyor belts and the hum of machines, three remarkable women shape their destinies. Lakshmi amma, Reshma, and Revati, each embodying resilience and determination, labor tirelessly to secure futures for their families. Their narratives underscore a profound truth: aspirations, molded by trials and triumphs, fuse seamlessly into the intricate fabric of progress.
We at Hasiru Dala Innovations are inspired daily by the grit and resilience of such women and are glad that we are able to create stable income opportunities with decent working conditions for them. We wish that all that they aspire to come true.
Interviewed and written by: Vividha
Edited by: Shekar Prabhakar